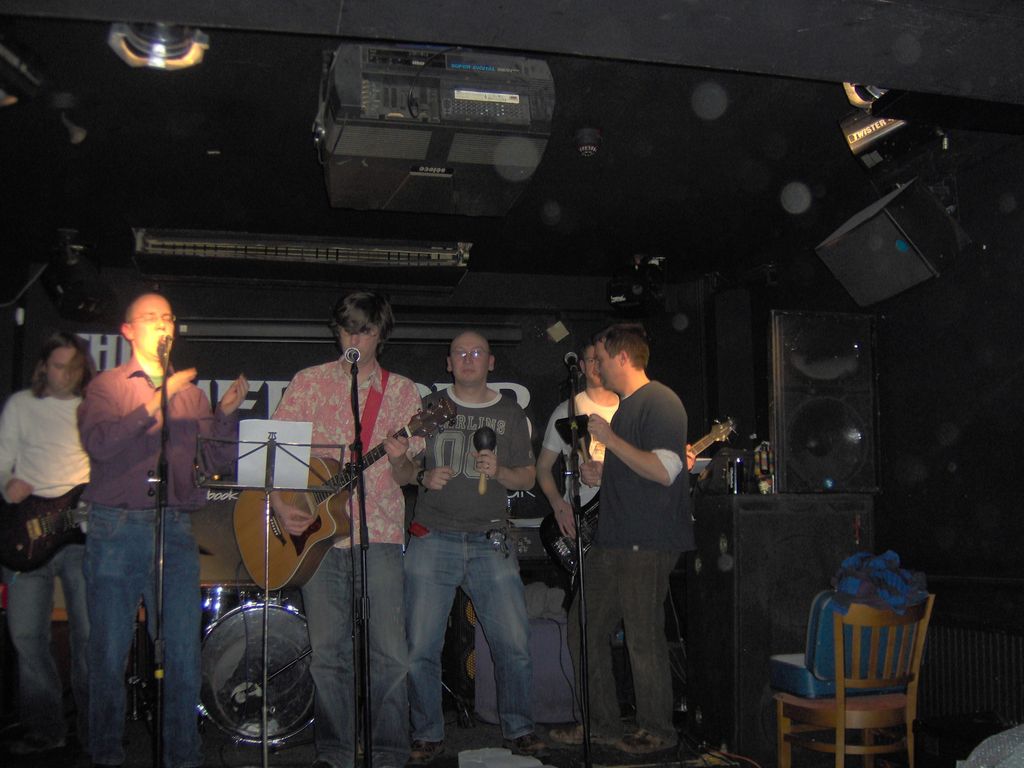 On Fri January 29th, we played our first gig of 2010, at The Comedy Pub,
in Leicester Square.

Head over to youtube and you can see the full gig (and tons of other
Shorties content) at

http://www.youtube.com/user/reverendsl


We came to an arrangement with the promoter that meant we could play for
an hour, rather than the usual half hour. This made the whole evening so
much more enjoyable than usual. With the half hour shows you rehearse
for weeks, get all set, go down for a quick soundcheck and then get, if
you're lucky, 9 songs crammed in. You daren't tune the guitar if it goes
out, as you'd lose another song. With a full hour to play with, we knew
we could really enjoy ourselves. We upped the number of songs, but only
to 14. This meant we knew we wouldn't have to be rushing, could banter
between songs, re-tune if need be, etc.

Well, I can't recall when I last enjoyed a gig so much. As usual our
loyal fans turned out and roared us on, and the banter was flowing back
and forth. Performance wise, I think we nailed it also. The soundman
did a great job, and we did our bit, really hitting the pocket on most
of the songs. Although Dave could not make this gig, Saul performed
with us for the 3rd gig in a row, which was an enormous joy. It's so
great that he's fully re-engaged with the band. Realistically, (and I
know I've been saying this for 15 years) I'm not sure how long we can
keep going, so it's fantastic that he is taking the opportunity while
it's around.

Equally exciting, making his Shorties live debut, was Dan's brother
Richard. Richard has posted here several times before, and is as groovy
a guy as you could wish to meet. He came by to watch a rehearsal, but
being a great guitarist, we ended up roping him into the gig. He helped
us put a new slant on songs such as 'Che Guevara and Me' and 'Maggie and
Hopey' and he tore up the joint with his solo on 'Pismel'. We hope he'll
work wih us again in the future

The set list featured a few golden oldies returning (We haven't played
'Che' in over 5 years, haven't done 'Pismel' or 'Maggie and Hopey' for,
maybe 3-4 years) and we also debuted a brand new tune written by Liam
and I, 'Your Drunk Uncle'. We eschewed some of the crowd pleasers that
we felt we just needed a break from, so there was no '40 Years' 'Holy
Man's Hands' or 'Lottery'. Thankfully the crowd showed no signs of
missing them, and gave us a great response.

We were by no means perfect. I think Chiswich felt a little rushed, for
example, but it was certainly one of our better performances and some
songs (Che Guevara and Pismel) I can't recall ever sounding better. more
importantly, perhaps, I (and i think all the band) relished the relaxed
atmosphere and the sense of fun and joy that pervaded the whole event.
Roll on the next gig...

The setlist was:

Sofa Gofer

Noriega

Maggie and Hopey

The Fish And The Tambourine

Your Drunk Uncle

Che Guevara And Me

It's The End Of The World As We Know It

Wedding Day Blues

Leopard's Head

Midlife Crisis

When Your Girlfriend Asks You If You're Gay

Drown, Laugh And Float

Chiswick High Rd

Pismel

Regards

Aiden

PS: remember Head over to youtube and you can see the full gig
(and tons of other Shorties content) at:

http://www.youtube.com/user/reverendsl


Meanwhile, here's Part 1 of the gig...